The value of speed ratings in assessing a horse race
Time as a measure of a horses performance
The soundest method of gauging the merit of a racehorse's performance is the clock, specifically the time it takes to run from distance A to B.  
In this post I'll highlight a recent race that showed up strongly in terms of speed ratings and discuss the prospects of 4 horses who debuted in the race.
Fast horses run fast times
Time is the true indicator of the speed of horse over a distance but, horses who post 'good' speed ratings aren't infallible. Conditions of future races and circumstance can see them post a then seemingly below-par effort. The pace in the race, going, track conformation among many other factors can be their undoing. 
All that said, only a 'fast' horse can record a 'fast' time, under certain conditions an average horse can seemingly be flattered. Over a sample of races, speed ratings stand up.
What a significant time performance gives you is a piece of information that is not visible to the race watcher's eye and not necessarily in the betting public's domain.
For races where there is little or no form to judge performance on it can be a valuable headstart on other form readers. It is only latterly when horses have subsequently had the chance to compete against their contemporaries that the true value of the form becomes common knowledge. 
Speed ratings in Competitive 2-year-old maiden races
At this time of the Flat season we are presented with a host of 2-year-old maiden races, often numerically highly competitive and packed full of potential and future winners. Deriving the merit of one race of this type from another is highly difficult. 
Often they are contested by high-value horses, from top stables. They are immature racehorses both mentally and physically and there is little previous form on show to make comparisons and make an estimation of an individual horses performance.
One run gives us only a little information to base betting decisions. Some of these horses will progress massively with education, others will regress. Profiling the horses at this stage is challenging with so little to go on.
In such cases, the time of the race can reveal potential and performance before any collateral conclusions can be made. Horses that run in fast time races aren't necessarily going to go on to be the champions. Where a race that delivers a fast time performance gives you an edge is that you have information not commonly known. In future races, as horses get chance to race against others the merit often then becomes apparent.
Speed ratings of the Newbury maiden race
One race that caught my eye recently was the opening race on the Newbury card on the 25th of October. I'm not suggesting that the speed ratings recorded in this race are those of world-beaters, but I do think they highlight the race as one being 'above average' for a race of its type.
Time will verify this (or possibly not?), but for now, I'm happy to focus on certain runners from this race in future events. 
It was a seriously wet day at Newbury, the official going being heavy. The ground will have deteriorated during the afternoon under racing. Taking this into consideration, the time of the first race shows up well versus others on the card, notably the 6 and 7-furlong handicaps contested by the older more physically advanced horses.
Watch the Newbury Maiden won by With Respect
The runners from the race in total are of interest given the speed rating recorded, but having overlaid some other factors there are 4 horses that I've marked up for the future.
With Respect - Hughie Morrison
Hughie Morrison saddled the first and third home here, the winner With Respect and Sky Storm placed. If you use the betting market as a guide then it may have been that Sky Storm was thought capable of going best here. With Respect had an SP 22/1, Sky Storm 14/1.
With Respect did well to get in front of the runner-up Cold Front here, it looked unlikely for most of the race. He is probably a very nice horse in the making. 
Pedigree wise, he looks like a mile will prove a minimum requirement. He stayed on strongly here, so the run style certainly backs that up. His trainer takes his time with his horses and places them well. With Respect looks a nice sort for decent handicaps or better next year.
Sire – Gutaifan

Dam – More Respect

Dam's Sire – Spectrum
DOSAGE PROFILE = 1-1-4-2-0 (8)
DOSAGE INDEX = 1.00
CENTRE OF DISTRIBUTION = 0.13
Further reading on the Dosage Profile
Cold Front - William Haggas
Travelled very nicely at the forefront throughout the race and looked like he was going to win comfortably until the final 100 yards. 
I like horses from the William Haggas stable, a lot build up a very similar profile, a progressive profile as they are educated and improve with racing. 
Cold Front has speed influences in his pedigree and very little stamina. He raced at Newbury as his Dosage Profile would suggest, showing early pace and travelling strongly. I'd expect he will prove to be at best at trips short of 1 mile.
Sire – Lope De Vega

Dam – Cloud Line

Dam's Sire – Danehill Dancer
DOSAGE PROFILE = 1-17-12-0-0 (30)
DOSAGE INDEX = 4.00
CENTRE OF DISTRIBUTION = 0.63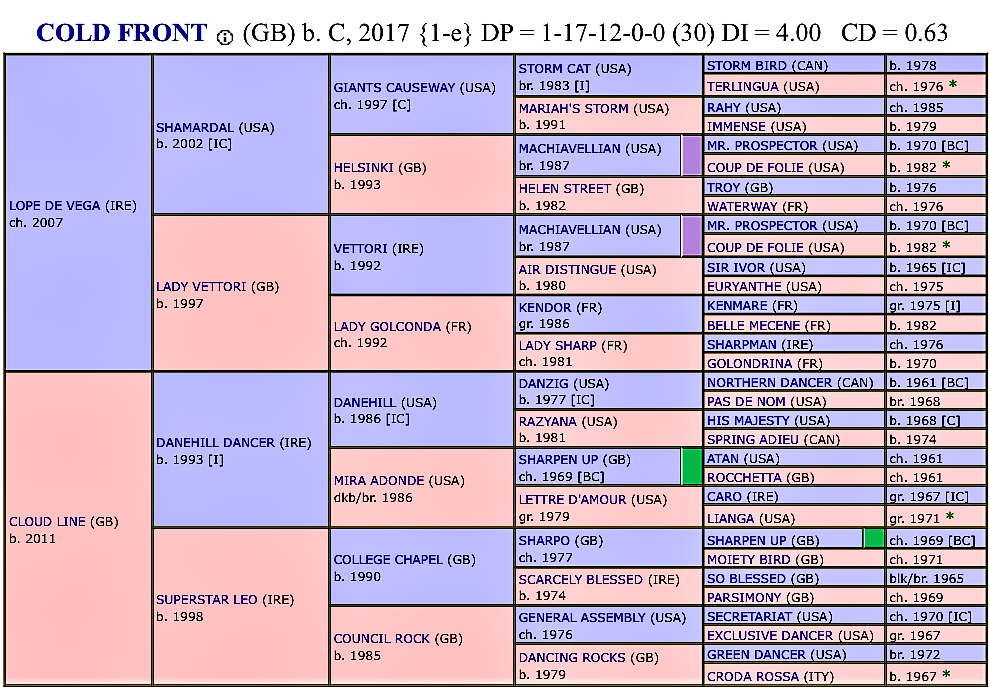 Interesting to see he holds an initial entry at the final turf meeting of the year at Doncaster on Saturday in 6-furlong maiden. Not knowing the opposition and his expected chance versus price yet, but he'll certainly be one I'll be assessing for a potential bet on Saturday.
Sky Storm - Hughie Morrison
Sky Storm is of real interest on the evidence of her run here. Her Dosage Index Profile points to a horse who will in time be seen to her best at middle distances, 1 mile 4 furlongs. That she could show up so prominently here over 6 ½ furlongs, hints strongly that he has a fair amount of ability. 
Sire – Night of Thunder

Dam – Dinvar Diva

Dam's Sire – Dalakhani
DOSAGE PROFILE = 0-7-5-11-1 (24)
DOSAGE INDEX = 0.66
CENTRE OF DISTRIBUTION = (0.25)
It can be a step factor in improvement when a horse moves up in trip to a distance it is bred for. Augurs well for Sky Storm, she is certainly one to be considered when she is faced with a sterner test of stamina.
Grey Fox is of a similar ilk to Sky Storm, in that he has stamina on the dam's side of his pedigree being out of a Galileo mare. 
Sire – Gutaifan

Dam – Boucheron

Dam's Sire – Galileo
DOSAGE PROFILE = 2-1-11-8-0 (22)
DOSAGE INDEX = 0.63
CENTRE OF DISTRIBUTION = 0.14
If you watch the race back, his run style suggested a step up in trip would be of benefit. Staying on nicely in the closing stages of the race. 
His trainer, Emma Lavelle is better known for her exploits in National Hunt racing, this could be advantageous from a betting perspective, markets can underestimate the less fashionable trainers.
Another to be on the lookout for next year once handicapped and stepping up in trip.
You may be interested in: